The tower in Gassons field is a water tower. It was gravity fed from the res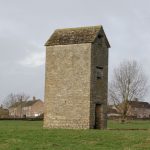 ervoirs  in the woodland between Pitham Brook path and the Quenington Road that served Dynevor Terrace. These two reservoir were fed from a pump in the Fairford Mill through pipes across the field and were put in place in the early 20th century.
In the water tower was a large tank under which water tank on a cart was place was filled by pulling a chain/rope to relese the water.
See attached article by Syd Flatman for further information   Fairford waterworks